Ireland's National Public Service Media
Meáin Náisiúnta Seirbhíse Poiblí na hÉireann
The next few weeks will be "difficult for everybody", as modelling currently suggests Ireland will record upwards of 200,000 cases in December, according to Deputy Chief Medical Officer Ronan Glynn.
In a video posted online, Dr Glynn said these cases are "not inevitable".
"These people have not yet been infected. We can avoid this case load and ensuing impact on the health service by following basic public health advice," he said.
"We are all understandably very, very tired of this pandemic. Time and again, we've asked you to take on board public health messaging and act for the collective good and time and again, the vast majority have listened to that message and responded.
"Unfortunately, we must now ask people to heed public health advice once again."
Our modelling suggests that we will record upwards of 200,000 cases of #COVID19 in December.
This is not inevitable. These people have not yet been infected and, together, we can avoid this case load and ensuing impact on our Health Service.
ℹ️🦠👇pic.twitter.com/FGUHI9x4Yk
Health Service Executive Chief Executive Paul Reid has described the challenges facing the health service as greater now than at any time since the Covid-19 pandemic hit.
Severe strains on the public health system will see a significant reduction in planned surgeries at many larger hospitals with immediate effect.
The country's major acute hospitals have been told they can cancel surgeries and other procedures to prioritise coronavirus treatment.
The HSE has asked larger hospitals to identify how many additional ''surge capacity'' ICU beds can be created in the coming days.
Speaking on RTÉ's Morning Ireland, Mr Reid said there are 4,400 staff now absent from the health service with Covid-19 or who are symptomatic close contacts.
"That is having a severe impact on our health system", he said.
The National Joint Council of healthcare unions has written to the HSE expressing opposition to a proposal to exempt healthcare workers from the measure that vaccinated close contacts of a household who test positive for Covid-19 restrict their movements for five days.
The Chairperson of the National Joint Council, Tony Fitzpatrick, said the mistakes of previous derogations that allowed healthcare workers to be exempt from public health advice cannot be repeated.
Mr Reid said this morning that the HSE is continuing to seek a derogation in the "stay at home" policy for close contacts.
The derogation from the five-day rule would be sought for asymptomatic staff, who would then face additional workplace controls, including temperature checks, he said.
He said the HSE will address the workforce concerns, but that the context for seeking a derogation is against the backdrop of having a fully-vaccinated workforce who are now getting booster vaccines.
"We are in a different place than we were when we applied a derogation in January of last year," he said.
"What is different now is that we do have a fully vaccinated workforce primarily. Secondly, we are obviously working through right now a very significant booster campaign for all of our healthcare workers so it does put us in a stronger position.
"But equally, if our healthcare workers are symptomatic we would be only seeking derogation where people are asymptomatic and we would be putting certain controls in place for the workforce for temperature checks and regular testing etc."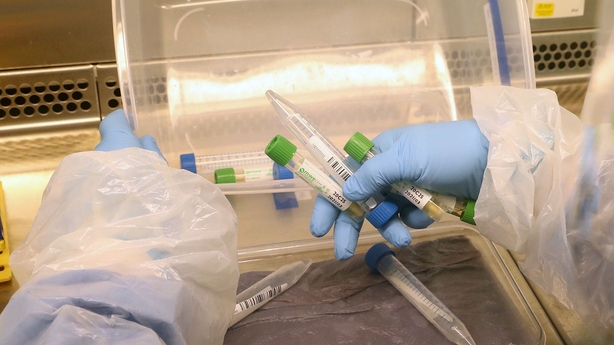 Mr Reid said they are undertaking a range of actions to help alleviate the severe impact of Covid-19 on hospitals, adding that it is a difficult situation and that is why they have moved to use more private hospital capacity.
In the last two weeks, the number of Covid-19 patients in hospital has increased by around 40% and it is close to that figure also for intensive care, Mr Reid said.
Mr Reid said they have taken a range of actions, including utlitising the private hospital capacity to a stronger extent and they will potentially increase this from 1,000 to 3,000 beds a week.
They are using ICU capacity in private hospitals also, he said, with eight critical care beds in use.
"We have a range of actions which we are taking with our model for our bigger hospitals, in essence looking at how we can increase our surge of ICU capacity around the system and how to redeploy some of the resources to support that."
Over the past few weeks, on a hospital-by-hospital basis, they have been making decisions on elective care.
"What we have been saying to the bigger hospitals that are under extreme pressure over the next 14 days is to prioritise that care – that is Covid, urgent elective care and obviously that means that certain elective care that is urgent will have to be cancelled at this time.
"It does impact, that is the level of surge we are at at the minute."
Mr Reid said they have increased the number of ICU beds from 255 to just under 300, and have upped staffing levels.
He acknowledged that staffing levels are still low compared to other European countries, but said there is an investment plan which was given to the Government during the pandemic.
A 26% increase in staff numbers in the last year was way above "what was done any other year", he said, adding that they are "playing catch up".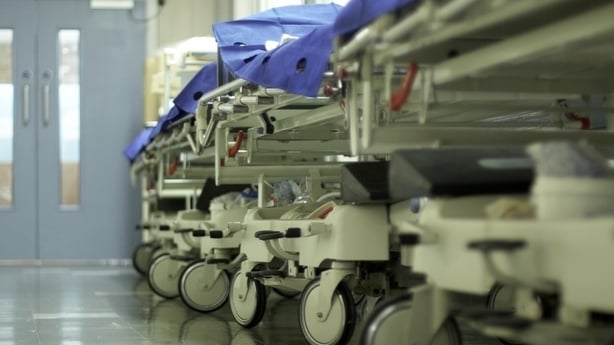 The HSE's Chief Clinical Officer, Dr Colm Henry, said they must look at the sustainability of healthcare services and the critical role of unions as they assess derogation.
Speaking on RTÉ's Today with Claire Byrne, Dr Henry said they will be discussing proposals with the unions in the coming days.
"Any proposals we have will be directed by the needs of the service."
Dr Henry said ICU staff are feeling the strain of the current impact on hospitals and are "very worried and exhausted".
He said there are currently 110 patients with Covid-19 in ICU, with five admitted in the last 24 hours.
Just one ICU bed was available in Dublin's hospitals last weekend, he said, adding that there is always a worry that someone who needs intensive care might not be able to receive it.
Of the Covid-19 patients in intensive care, Dr Henry said a large number are receiving ventilation.
However, he said that despite the high level of cases, he does not think Ireland will face the same situation as Austria, which has announced it will impose a full lockdown.
He said Ireland is in a "much more fortunate position" due to a higher vaccine uptake.
Dr Henry also noted a high level of "social mixing" and recommended that people look at their contacts for the week ahead and reduce them by up to half.
A singular effort by everyone will have a cumulative result, he said, and help reduce the spread of the virus.
He also said there is a focus now on persuading the remainder of people who are unvaccinated to get a vaccine.
Ireland is 'a little bit crestfallen' – Tánaiste
Meanwhile, the Tánaiste has said that as a nation, he believes that Ireland is "a little bit crestfallen" and "a little bit heartbroken" about the current Covid-19 situation.
Speaking to CNN in Abu Dhabi yesterday, where he was on a trade mission, Leo Varadkar said restrictions will be reassessed in about two weeks' time.
While he hoped further restrictions would not be required, it was not possible to guarantee that they would not.
Mr Varadkar said that while vaccine numbers are high, the 5% of the adult population not vaccinated was having a disproportionate effect on hospital numbers.
"If everyone was vaccinated, we wouldn't be imposing the restrictions that we're imposing now", he said.
The Tánaiste said the Government was reluctant to impose a lockdown for the unvaccinated, adding that taking a vaccine was a personal choice.
He said he believes Ireland will eventually offer a third vaccine dose to everyone.
Read more:
'Significant demand' as almost 200,000 PCR tests in 7 days
Parents need 'clear message from Govt' – NPHET advisor
Latest coronavirus stories
© RTÉ 2021. RTÉ.ie is the website of Raidió Teilifís Éireann, Ireland's National Public Service Media. RTÉ is not responsible for the content of external internet sites.